Barbara A. Cardone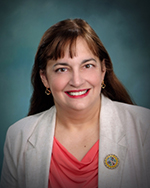 Barbara A. Cardone received her Bachelor's Degree cum laude from Georgetown University in 1982 and her law degree cum laude from Boston College Law School in 1985. From 1985 to 1986, Barbara served as law clerk to David G. Roberts, associate justice of the Maine Supreme Judicial Court.
She has been representing clients in family law matters and general civil litigation for over 25 years. Barbara was the chair of the Maine State Bar Association Family Law Section for 2002-2003 and is a past president of the John Waldo Ballou Inn of Court in Bangor. She is a fellow of the American Academy of Matrimonial Lawyers and a member of the American Bar Association's and Maine Bar Association's Family Law Section. Barbara has served as an associate justice on the Penobscot Tribal Court and lectures on family law issues at continuing education seminars for lawyers. Barbara is admitted to practice in Maine and Massachusetts.
Because she believes that the actions of an individual can improve the community, Barbara volunteers her time to several organizations. She is on the Board of Directors of the Maine Bar Foundation, an organization charged with supporting programs that provide legal services to the poor in order to guarantee everyone access to justice. She is president of the Board of Directors of Amicus Corporation, an organization that supports men and women with cognitive and other disabilities in the Bangor area. She is an active member of the Zonta Club of Bangor, a worldwide service organization dedicated to improving the status of women. Barbara volunteers in the Penobscot Volunteer Legal Aid Clinic. She is also a trustee and volunteer gardener at Ecotat Gardens in Hermon.