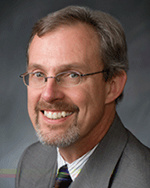 Edward W. Gould is a member of the firm. He was born in Warwick, Rhode Island, in 1957. He received his bachelor's degree in 1979 from Brown University and graduated cum laude from Boston University where he received his law degree in 1982. Mr. Gould was admitted to the bar of the State of Maine and the U.S. District Court for the District of Maine in 1982 and was admitted to practice before the U.S. Court of Appeals, First Circuit in 1985.
Mr. Gould is a member of the Maine State Bar Association and the Penobscot County Bar Association, where he served as secretary-treasurer from 1996 to 2001 and as president in 2001. He is a member of the Maine Trial Lawyers Association, having served on its Board of Governors from 1991 to 2000. Mr. Gould is a member of the American Board of Trial Advocates and served as vice president of its Maine Chapter in 2001 and as president from 2002 through 2003. From 1993 to 1999, Mr. Gould was a Barrister of the John Waldo Ballou Inn of Court. He has served on the Board of Directors for the Bangor Area Visiting Nurses beginning in 1994. He served as board chair until the agency merged with Eastern Maine Home Care. After the merger, he served first as the Board's vice chair, and later served as board chair until 2014. He continued to serve on the Board until he termed out in 2015. After his service with Eastern Maine Home Care, he was elected a Corporator of Eastern Maine Healthcare Systems in 2015.
Mr. Gould also serves on the Board of Big Brothers Big Sisters of Mid-Maine. He was elected vice chair of that Board in 2015.
In 2012, Edward Gould was awarded the AV® Preeminent™ rating from LexisNexis Martindale-Hubbell®. The Martindale-Hubbell® Peer Review Ratings™ are an objective indicator of a lawyer's high ethical standards and professional ability.
Contact & Reviews
Edward W. Gould's Martindale-Hubbell® Peer Review Ratings™