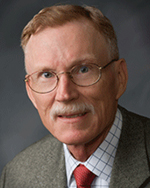 John F. Logan, II, is a member of the firm. He was born in Salem, Oregon, in 1940. Mr. Logan received his undergraduate degree from Boston College in 1963 and his J.D. from Willamette University College of Law in 1966. Mr. Logan was a member of Phi Delta Phi. He was admitted to practice in Maine and U.S. District Court for the District of Maine in 1969.
Mr. Logan's civic involvement includes membership on the Board of Directors for Maine School Administrative District #22 from 1978 to 1987, serving as its Chairman from 1980 to 1987. He has served as Chairman of the Maine School Management Unemployment Compensation Trust Fund Committee from 1981 to the present and was Chairman of the Board of Trustees for the Winterport Water and Sewer Districts from 1984 to 1999.
Mr. Logan is a member of the Penobscot County Bar Association, having served as Vice President in 1990 and President in 1991. He is also a member of the Maine State Bar Association and served on its Board of Governors from 1993 to 1998 and as an officer from 1999 to 2001 and most recently as its President in 2002. He has been a member of the Maine State Bar Association's Continuing Legal Education Committee since 1988 and its Real Estate and Title Section and the Title Standards Subcommittee since 1984. Mr. Logan currently serves on the Board of Trustees of the Lawyer's Fund for Client Protection.
Contact & Reviews